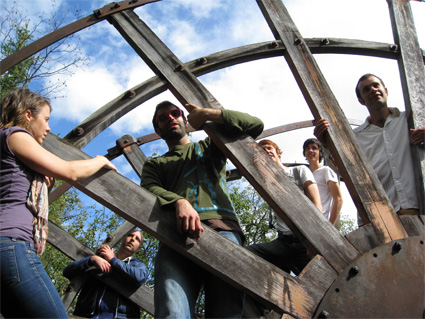 I would first like to apologize for my

Band To Watch

segment being M.I.A these past few weeks. But, before you get too sad I would like to introduce you to a band that is vastly underrated. They go by the name

Bell Orchestre

, and they are just nifty.
This six-piece instrumental band from Montreal has pulled members from the audacious Arcade Fire and the luscious Luyas to create an instrumental/experimental super group. The band's 2005 debut album,

Recording A Tape The Colour Of The Light

, was met with critical acclaim and it has had everybody on the edge of their seats, awaiting their sophomore release. Thankfully, a few months back we received word that the band was in the studio recording, and that they would be releasing the new album on

March 10th

.
As Seen Through Windows

will be a defining factor for the band; it has the power to solidify them as being renowned as a band that pushed the limits of classical orchestral instrumentation and composition. The band has made two songs off the new album available for streaming on their myspace page, and so far from what I've heard they are continuing to head down the right track.
Bell Orchestre - Throw It On A Fire
Bell Orchestre - The Upwards March
Amazon/iTunes
-Bishop
-